Leadership Team from September 2017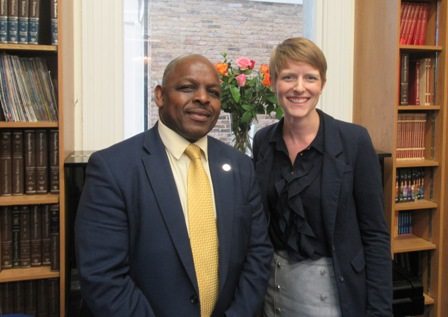 Mr Steadman returns to Clifton Lodge from September
We are delighted to announce that Mr Floyd Steadman will be returning to Clifton Lodge as Executive Head from September 2017.  After difficult personal circumstances in the autumn term, Mr Steadman wishes to spend more time closer to his home in Ealing and is very happy to be able to return to the familiar territory of Clifton Lodge.
For those of you who have not met Mr Steadman, he has an accomplished record in prep school education, working in St Paul's Prep and Mill Hill Prep School (Belmont), before successful Headships at Cognita Schools: Salcombe Prep, Downsend, Clifton Lodge and Cumnor House Boys. Cumnor House has recently been judged as excellent in all areas (the top grade) by the Independent School Inspectorate under Mr Steadman's leadership. He is keen to pursue the highest standards in academic and pastoral outcomes and as a school leader taking a role in all aspects of school life. He has a very well-established understanding of the London prep school system and has close links with many of the schools that children at Clifton Lodge transfer to at age 11 and 13.  Outside his career in education, he played sport to a high level, captaining Saracens rugby team and playing for the Barbarians. Mr Steadman has three sons, two at university and one working in London.
Mr Steadman will be working at Clifton Lodge for 3 days per week from September. He will be working alongside Mrs Beth Friel who will become the Head of School. Mrs Friel is well known to families at Clifton Lodge and is committed to ensuring the best education for each child.
Mrs Friel trained in Primary Education with Music at Stranmillis University College, Belfast; after which she completed an MA at the University of Ulster.  She started as the Year 3 class teacher at Clifton Lodge in September 2011 and has since been Deputy Head; this September will be the start of her 7th year at the school. Clifton Lodge has a Christian ethos which imbues every child with inherent worth and dignity; Mrs Friel believes this is an excellent foundation upon which all pupils may flourish. She wishes Clifton Lodge to continue as a place where children from all faiths and none, thrive; develop their curiosity and talents; feel safe, welcome and happy. She lives in Shepherds Bush with her husband, Patrick.
Working in partnership, Mr Steadman and Mrs Friel are a great team to lead Clifton Lodge and ensure that the school continues to be an amazing place for its children.
Published on: 5th May 2017