Trip to Houses of Parliament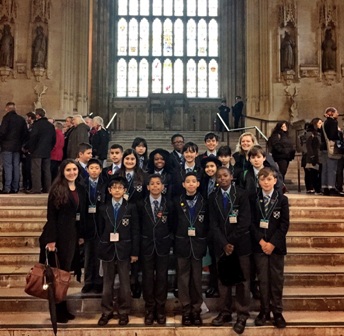 On Monday 14th November, Years 7 and 8 greatly enjoyed a trip to the Houses of Parliament and Westminster Abbey.
After an interesting tour of the Queen's dressing room, the Houses of Commons and Lords, we were met in Westminster Hall by our local MP, Dr Rupa Huq. Dr Huq encouraged a questions and answers session with the pupils, so we could understand more about what we had seen. She also explained more about her position as a Labour party member within the parliament.
We then made the short trip across the road to Westminster Abbey and had a guided tour of this historical church, which the architect for the Palace of Westminster actually took inspiration from. Our workshop was called 'Church and State' and linked nicely to the morning's learning.
After lunch in the church cloisters, we stretched our legs around St James' Park, taking in a view of Buckingham Palace, before heading back to school on the tube. All in all it was an amazing day and such a privilege to be able to see behind the scenes in two great British institutions.
Published on: 16th November 2016