Trip to the Tower of London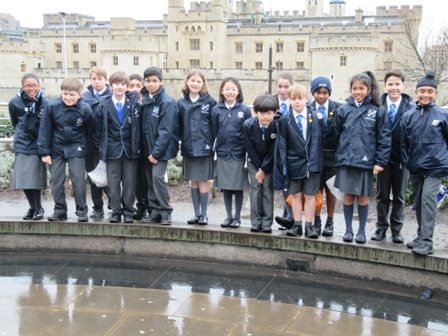 On Tuesday 20th February Year 6 visited the Tower of London. In the morning we were taken on a guided tour of one of the oldest buildings at the Tower of London – the White Tower.
Built by William the Conqueror it was the tallest building of its time in Medieval London.  Inside the tower were imprisoned important prisoners and we learnt about their daring attempts at escape. One brave prisoner managed to escape from the White Tower by jumping from a window. Luckily for him in the grounds of the tower lay a pile of human waste and it was into this he landed cushioning his blow and saving his life. Smelly but free!
In the afternoon we learnt about the bloody deeds that took place in the grounds of the Tower.  In an area known as the executioner's site we learnt how the young queen Lady Jane Grey was executed. One clean strike of a Sword! Sadly, she was not alone, over the years many unlucky Royals lost their lives at London's most famous execution spot. We counted at least 10.
On a cold February day, we had great fun discovering some of the darkest secrets of one of London's most famous buildings.
Published on: 22nd February 2018